Kogan Con 2023 is almost here! Held yearly at Central Park Place since July 2018, Kogan Con is a non-profit organization that focuses on bringing Anime, Manga, and Fandom media to the foreground, educate participants, and celebrate the historic and ongoing contribution of these art forms to popular cultures. 
We recently caught up with Rosie Bono, President of the Board of Directors and the Chairwoman of Kogan Con, for a quick interview about Kogan Con, its evolution over the years, and this year's exciting guest line-up.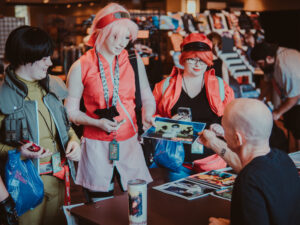 Tell me a little about you and your role with Kogan Con! 
Hi! My name is Rosie Bono. I am the President of the Board of Directors and the Chairwoman of Kogan Con. As President, I handle the non-financial administration needs, such as booking industry guests for appearances at the event, assisting the different departments with their needs, as well as day-of logistics and event coordination. I work full-time in Event Management, Logistics, and Coordination, most of which is within the sphere of fan events! I have also worked in the hospitality industry for the last 12 years, from bartending and catering to day-off wedding management and fan conventions! When I am not making spreadsheets for my spreadsheets, I like to read fantasy novels, cook way too much food, and be outside with my husband and our crazy 8-year-old German Shepherd. 
How did Kogan Con start? What was the inspiration behind it? 
Kogan Con started when the three other board members (Ashleigh Morgan, Denise Zant, and Mike Bono) and I wanted to create the same environment we had experienced in our youth at anime/comic/fan conventions throughout the Midwest, but make it educational. And we wanted Kogan Con to be community-centric while putting on the best event we could, so we chose to become a non-profit organization. We focus on bringing educational content from within the fan-related industries to our attendees while encompassing a fun environment where you are free to express yourself through cosplay (costumes), talk about your favorite shows, games, movies, books, comics, etc., and just nerd out!
What is your favorite part of Kogan Con?
That's a hard question. After working so hard on planning and the blood, sweat, and tears that go into the event set-up, my favorite part is seeing how much the attendees enjoy it. After our first event, I saw someone comment on our social media post. They thanked us for putting it on, telling us that it was her and her daughter's first event, it was so much fun, and that they would be coming to the next one. I cried! It made all of our efforts worth it. That, and all the absolutely AMAZING cosplayers! The costumes that some people wear are truly works of art!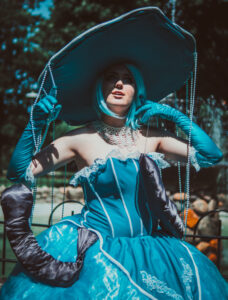 How has Kogan Con evolved over the years?
For the first two years, we described ourselves as an "Anime and Fandom Convention," but we decided we didn't want to pigeonhole ourselves into one media type. So, we changed our description to be inclusive of all aspects of "nerdom" (as I call it), and we now describe ourselves as a "Fandom Convention." 
From the administrative point of view, as a small start-up non-profit, we had little working capital. We (the four board members) initially invested personal funds to hold Kogan Con for the first two years. Now, we are in a place where the event can pay for itself. That alone has allowed us to expand our offerings by quite a bit. 
Our team has also evolved over the years! Our incredible staff have been an absolute blessing at this event. People from all walks of life, with all kinds of experience, have helped make this event a success, and our team has grown each year. We saw attendance practically double from our first to our second year and have steadily grown since then.
Are there any new features or additions to Kogan Con 2023?
Yes! This year our guest lineup is the biggest it has ever been! Guests include:  
TikTok Creator Adventures In Aardia has over two million followers, most known for his series "Roll for Sandwich." He will host a live segment of the show at Kogan Con this year, and the audience will be allowed to participate! 
The Swordsmanship Museum and Academy will host panels on Sci-Fi and Japanese Swordsmanship, feature New Dawn Kyber Squadron demonstrations, and bring their traveling Museum of Warriors with artifacts from hundreds of years ago. 
Author and Artist Presentations will include Scott Rosema, a local Michigan comic artist who has worked for companies such as Marvel Comics, DC Comics, Archie Comics, TSR, and Disney for 30+ years; Christy McCulfor (local Michigan Author and Comic Artist); Jean Davis (local sci-fi and fantasy author); and Bryan Donihue (author and game developer). 
Learn the cosplay trade by professional cosplayers Pink Opal Cosplay, Belle Bunni Designs Cosplay, and Envy the Green Fairy Cosplay. 
Attendees will have the opportunity to participate, learn and discuss with these creators and mentors in the pop culture scene!  
Our Gaming crew has knocked it out of the park this year, growing our offerings for video and tabletop gaming experiences. We are partnering with a local game store, Epic Tabletop Hobbies, to increase our offerings with tabletop game tournaments and campaigns.
Our Vendor Hall and Artist Alley are the largest they have ever been! With over
 thirty vendors and artists, event attendees will have even more opportunities to purchase handcrafted and created goods and merchandise from their favorite shows/games/movies/etc.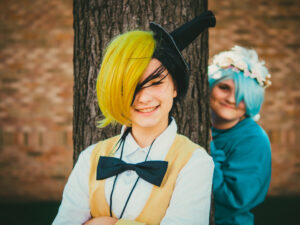 What are your future goals and plans for Kogan Con?
We want Kogan Con to be a center for community and education while still being a fun event. In the future, we hope to sponsor local student trips and excursions that are significant to pop culture or can educate certain aspects of fandom. These can include events, reenactments, festivals, and traveling to another country. We also want to support the local community with donation drives, events, and fundraising opportunities. We plan to move to a larger facility in the next few years to grow our offerings and opportunities for our attendees.
How can people or businesses get involved in Kogan Con? 
There are many ways! Sponsorships! We are always looking to partner with local businesses or individuals wanting to support what we do at Kogan Con! We have day-of-event volunteer positions that are great stepping stones to becoming part of our core events staff. And simple things such as following our socials, sharing our event flyers, social media pages/posts, and our website with friends and families are great (and free!) ways to support Kogan Con. 
Anything else you would like to share? 
Visit us on July 22nd, 2023, at Central Park Place! Tickets are on sale NOW, and pre-registration saves a little on your ticket price. VIP tickets are still available, and these tickets include awesome swag, snacks, front-of-the-line perks, and more. We hope to see you there!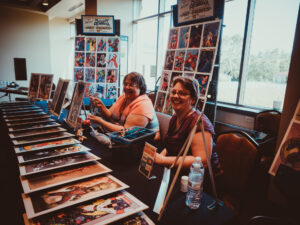 Thank You, Kogan Con! 
Thank you to Rosie and the entire Kogan Con team for bringing this amazing event to our facility each year! We cannot wait for July 22nd! 
Learn more about the event by visiting their Website and checking out their Facebook or Instagram. Ticket information is below. 
TICKET INFO 
General Admission tickets are on sale now! $10 online, $15 at the door! Kids 12 and under are FREE.
VIP Tickets are $50 and include:
Advanced seating and front-of-the-line for main events and panels.

Early access to Vendor Hall & Artist Alley.

Swag bag containing: 2023 Kogan Con T-shirt, 2 Kogan Con stickers, tote Kogan Con bag, VIP Kogan Con badge ribbon, VIP Kogan Con lanyard, and Japanese snacks and sweets.